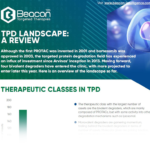 Therapeutic Classes in TPD
The therapeutic class with the largest number of assets are the bivalent degraders, which are mainly composed of PROTACs, but with some activity into other degradation mechanisms such as lysosomal.
Monovalent degraders are gaining momentum, trailing behind the bivalent degraders in terms of the number of assets. Molecular glues are garnering traction, with companies such as Neomorph and Monte Rosa Therapeutics concentrating solely on their development.
Popular Targets for Bivalent Degraders
With 85 targets being exploited by bivalent degraders on Beacon, a large portion remain undisclosed due to the early nature of the field. Download the document to find out more.
Key Learnings
Targeted protein degradation has seen a rise in bivalent degraders since the inception of Arvinas in 2013. With 4 bivalent degraders currently in the clinic, many companies are expecting to file IND applications and enter the clinic later this year.
Bivalent degraders are exploiting 85 targets, with the most common being BET proteins, the androgen receptor and BTK. The clinically active bivalent degraders target the androgen receptor, the estrogen receptor, BTK and IRAK4.
The most commonly recruited E3 ligases are VHL and cereblon, but an increasing number of companies, such as Amphista Therapeutics and Phoremost are trying to investigate and recruit novel ligases.
Find out more
This insight and data is part of the subscription to Beacon TPD.

Speak with our Team
Our dedicated Sales and Research teams can help you with questions by showing you how this insight and data is collated on Beacon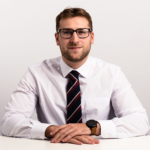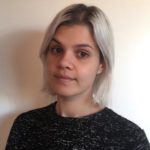 About Beacon Targeted Therapies
We are a clinical trial and pipeline database solution, designed in partnership with pharmaceutical professionals. We track targeted therapies to provide accurate, in-depth and real-time information in the rapidly evolving landscape of drug development.
Learn more about how our clinical trials and drug database solutions can be tailored to your research requirements